Supplementary Farmland Bird Feeding Project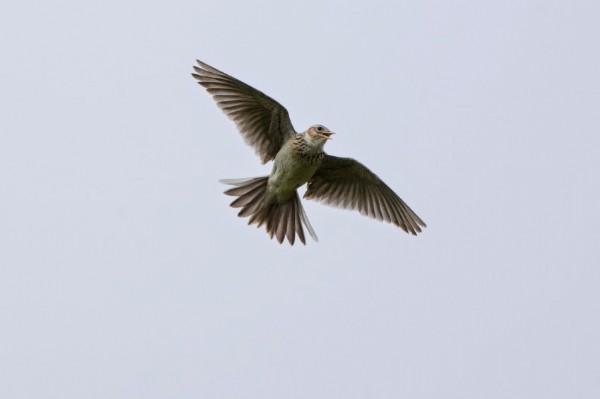 In partnership with other Oxfordshire farms, we're conducting an experiment over the next few months to determine the best way to provide food to support farmland birds during the winter hungry gap. We're comparing the effectiveness of growing wild bird plant mixtures, compared to regularly distributing extra supplementary bird food. Both of these feeding options are available as farmland stewardship options so we want to find out which has a more positive effect on farmland bird numbers.
The farmland stewardship options are part of the UK Government's commitment to reversing the long-term decline in the number of farmland birds. The UK Farmland Bird Indicator is made up of 19 species that are dependent on farmland, and not able to thrive in other habitats. The turtle dove, grey partridge, corn bunting and tree sparrow have declined by over 80 per cent and the overall average change for the 19 species is a 48 per cent decline since 1970.
The aim of supplementary feeding is to provide a regular, constant source of food as a lifeline for farmland birds, all the way from early winter to mid spring.
At Honeydale the standard wild bird plant mixtures of seed bearing species like quinoa, fodder radish, cereals and mustard will be used as a control, to show the numbers of farmland bird species that use it as a food resource. We'll also be looking at how long these plants provide seed into the winter months. Ideally, this resource would provide seed from December to March, however in reality they are often exhausted and depleted by mid winter.
Supplementary bird feeding is a newer idea, whereby farmers distribute bird seed regularly, in specific areas which are often within the blocks of wild bird plant mixtures.
We will monitor both the control plots and the supplementary feeding area to count the numbers of birds and diversity of bird species using the resource.
The supplementary feed will be distributed every 2-3 days to begin with and by late December it will be provided every day.
Richard Broughton of CEH conducts regular bird surveys at Honeydale and will be monitoring the effects of the project, while the day to day feeding programme will be handled by Cotswold Seeds' Warehouse Manager Elliot May. Elliot has had a keen interest in birds for many years, so he jumped at the chance to take on the supplementary feeding project at Honeydale! Having a great eye for identifying bird species both feeding and on the wing, he is the ideal candidate.
This week Elliot hung up two large seed feeders in the blackthorn hedge, which will provide songbirds with protection from predators such as sparrowhawks. The feeders were filled with a Hungry Gap Mix from Well Fed Birds containing wheat, barley, black sunflowers, millet, red millet, canary seed and linseed. A ton of this seed has been purchased, to last for 100 days. Ground-feeding birds such as linnets, blackbirds and fieldfares are also being catered for. Ten kg of the seed was also hand-distributed over a strip of the Summer Quick Fix rapid cover mixture, an area of which was flattened as a feeding area several weeks ago.
Elliot observed blue tits, great tits and a solitary yellow hammer while he was setting up the feeders, but we hope to see more birds on the farm once they have had time to realise there is a regular food supply here. Watch this space!
---
Date Posted: 20th December 2016

Knowledge