Case Study: Wildflower meadow with Tony Bryant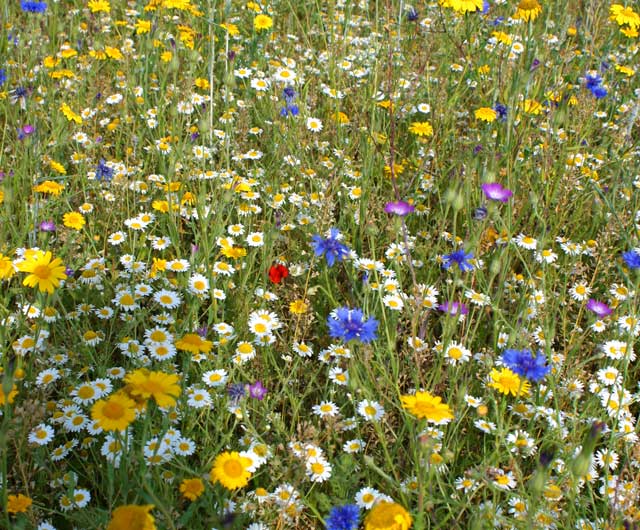 Name: Tony Bryant and Colin Smith
Garden Type: Trees, shrubs, borders
Location: Gloucestershire
Size: 14 acres
Soil Type: Cotswold Brash
Mixes Used: Cotswold Wild Flora
With over a 100 visitors a week looking round Sezincote, Head Gardener Tony Bryant must ensure that the garden looks truly spectacular, especially during the busy summer months.
Originally landscaped by Humphry Repton, the Indian inspired gardens are a mix of trees, shrubs and herbaceous borders. To complement this, owners Mr and Mrs Peake decided to establish a wild flower meadow at the top of the garden to provide colour through the busy summer months and create a haven for wildlife.
To produce the ideal low-fertility site, a JCB was used to remove top soil from the half acre area leaving only a single centimeter of soil above the bedrock. This was necessary at Sezincote because this part of the garden had deep, fertile soil which would have been too much for wild flowers. Before sowing, in September 2010, any weeds were removed and seed was then broadcast and rolled. Luckily this was followed by four days of rain, with germination following a few weeks after this.
In 2011, despite the dry spring, a dramatic display of annuals impressed visitors from May right through to July. Species such as poppies, cornflowers, ox-eye daisies and marigolds gave the meadow really dramatic colour. After this, the development of tall grass heads gave further interest right into the autumn.
At the base of last year's meadow the perennial species in the mix could clearly be seen coming through. This means flowers such as knapweed, campion, birdsfoot trefoil and scabious will be really vigorous in spring 2012 just as visitor numbers start to pick up again.
The meadow was mown last October with all cuttings taken away and composted. Removing them in this way means fertility is not added to the soil as this would favour the more aggressive grasses and weeds which could threaten the more fragile wild flowers. Once established, the wild flower meadow needs very little maintenance apart from this once yearly cut. After last year's display, Tony and Colin inspected the meadow to see if more wild flower seeds should be added, but aside from that, the gardening team at Sezincote can concentrate on other areas of the garden knowing the meadow will largely look after itself.
Sezincote's gardeners are expecting the mix to give a dramatic display for many years to come, which should keep the garden's visitors - and the wildlife - very happy.
---
Date Posted: 30th March 2017

Knowledge