The Highest Yield of Protein Rich Forage over the Shortest Time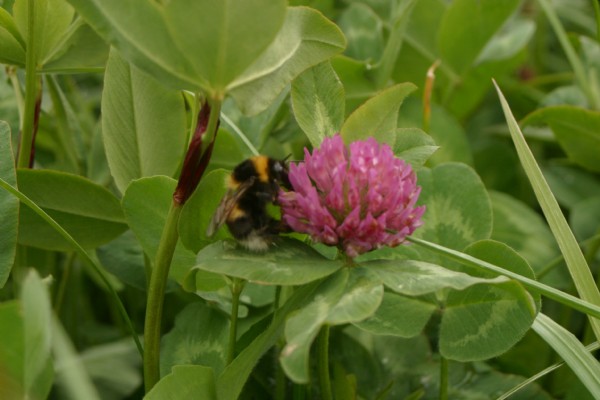 There has been a sharp increase in the use of short term ley mixtures. Rapid in establishment and quick to produce bulk, these mixtures have become favourites for those producing early grazing and silage from autumn sowings.
These can also be sown in the spring on moisture-retentive soils to provide heavy summer silage crops.
Fast Annual Ryegrass
Westerwolds is the highest yielding ryegrass with similar forage quality to the well known Italian ryegrass. It is capable of extremely fast growth on good quality soil and is grown largely for silage production in mixes such as our Quick Bulk Intensive One Year Ley. It is an annual, surviving for one season only. It may be sown in the autumn for production the following spring and summer, or planted in the spring for summer cropping. It should be cut frequently to encourage leafy growth. When sown in the spring it is ready for cutting after only 12 weeks. A further two cuts can follow a spring sowing on soils that have an adequate supply of moisture and a source of fertility.
Westerwolds Varieties
Prior to the introduction of improved strains, such as Lifloria, the image of westerwolds was poor. It was perceived to be of low quality and to lack winter hardiness. However, through conventional plant breeding techniques that situation has changed and westerwolds is now grown on many farms throughout the UK.
Cotswold Seeds has been using the westerwolds varieties Lifloria and Mendoza for nearly twenty years and has not experienced problems with winter hardiness.
Early Grass
From an autumn sowing westerwolds ryegrass grows very early in the spring and can provide early bite in March. It is therefore a cheap alternative to cereal rye which was formally grown for this purpose.
How to Obtain the Highest Yields
Over a short time period westerwolds and Italian ryegrasses produce more than any other grass species. Annual yields vary depending on soil fertility, but can be as much as 18t DM/ha from an autumn sowing. Spring sowings yield around 25% less. For westerwolds and vetch mixture, the highest yields come from crops sown in September. To provide soil fertility an application of manure prior to sowing is recommended. Early cuts just prior to heading will give high D values and good regrowth. For the Italian ryegrass and legume mixture (Fast and Vast), a fertile soil is required. Fast growing legumes such as red clover, vetches and crimson clover are able to fix up to 250 kg N/ha. To provide enough free nitrogen for a successful crop, legumes need to be included at high proportions in the sward. However, legumes don't fix nitrogen all year round. For this natural chemistry to occur the soil needs to be warm and, in the UK, this usually means that nitrogen fixation occurs between April and September. It is therefore essential to first manure the soil to ensure nitrogen is available for initial growth.
Ley, Soil & Rotation
Short term leys are very beneficial in arable rotations. Westerwolds and Italian ryegrass leys produce a large amount of root in a short time. These roots, when the ley is destroyed at the end of its term, improve soil structure as the decaying roots help bind together soil particles into aggregates which provide a solution on the many farms with deteriorating soil structure. High clover leys are also good at improving soil structure but have the additional effect of nitrogen building. These leguminous leys provide agriculture with a sustainable and biologically based farming future.
---
Date Posted: 30th March 2017

Knowledge