Herbal Ley for Cutting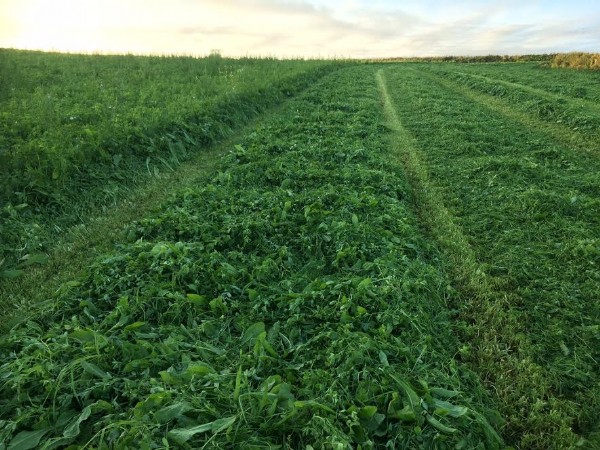 Farmer James Foote was prompted to contact us earlier this year after seeing our various discussions regarding herbal leys on social media. James farms near Truro in Cornwall and was looking for a herbal ley for cutting.
'Our main aims are to find a perennial forage mix that is deep rooting to improve soil cover and structure, add diversity to both the soil and forage feed and increase our nutrient cycling so that we can eliminate purchased fertiliser,' James says.
We adapted our herbal ley mixture, removing more fragile species and leaving thirteen hardier plants including chicory, ribgrass, sainfoin, grasses and several clovers. (Look at the diversity of the forage in the photo). On the 20th May the seed mixture was sown and harrowed into a fine seed bed that had 6-7 tonnes/acre of farmyard manure worked in during cultivations.
The field had previously been down to maize and had suffered from significant soil erosion and compaction, but by the beginning of June James reported that the herbal ley was coming up nicely despite the cold, wet and windy weather. It was cut 8 weeks after planting and James has been extremely happy with the yield. He is planning to have the silage analysed, so more on this later.
---
Date Posted: 31st July 2017

Knowledge