*NEW* First Hand Case Study with Dr Sarah Beynon: Herbal Ley, Bespoke Wildflower Legume Pollinator Mixtures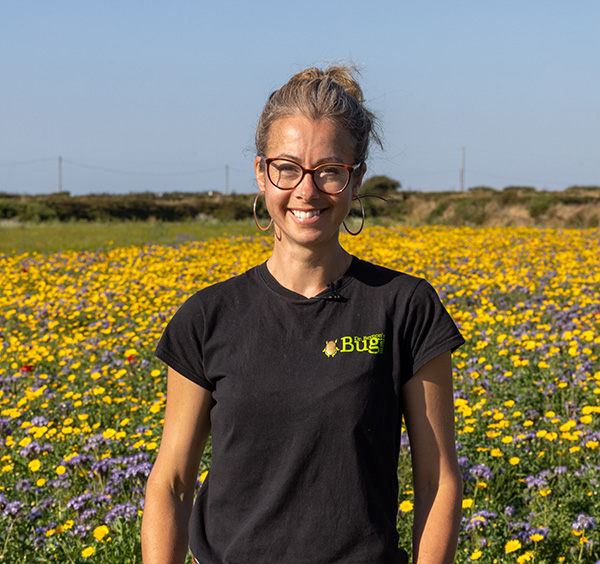 Where: West Wales
Type: Wildlife & Conservation
Size: 200 acres
Soil Type: Varied neutral and acidic soils from peat to clay with some free-draining stony fields
Mixtures: Herbal Ley, Bespoke Wildflower Mix, Legume Pollinator Mixtures.
'Although I'm a farmer's daughter I always had a passion for wildlife and over the years, studying to become an entomologist, I realised just how important insects and other invertebrates are,' says Dr Sarah Beynon, who bought what is now The Bug Farm from her cousins.
'The soils here are varied neutral and acidic soils from peat to clay with some free-draining stony fields,' Sarah explains. Traditionally this is assigned a low economic value by farmers but we look at it in a different way. It's our most rich and valuable land because it's not been possible to grow intensive crops reliably over the years, meaning habitats have not been destroyed.'
Building on this, Sarah turned it into a nature reserve where she manages her own herd of pedigree Welsh Black Cattle for conservation grazing. 'Their dung fertilises the land and provides a home for dung beetles and other insects, which in turn provide food for birds and mammals.'
The Bug Farm grows wheat and barley alongside other arable crops such as linseed, buckwheat and Wild Bird Seed mixes (all from Cotswold Seeds) but it is not currently harvested for human consumption, leaving it for overwintering birds to feed on instead. It's an integrated system with clover inter-cropping, herbal leys and a lot of perennial wildflower meadows.
'We want to get the balance right,' Sarah says. 'We are farming food and habitats for wildlife and also producing food for humans at the same time.'
Over the years Sarah has worked with Cotswold Seeds using a mixture of simple and complex herbal leys and tailoring wild flower mixes to suit the local conditions, converting rotational arable fields to these diverse leys to give them a break from arable production.
Sarah also uses the grass and wild flower mix, Cotswold Wildflora on some areas of the farm. 'It's a real wow factor,' she says. 'There's a flash of colour in year 1 from the annuals like Cornflower and Poppy and then the perennials come through to provide a longer-term meadow. We don't have any issue with annuals competing with perennials. The corn marigolds do really well and the knapweed has been fantastic - goldfinches and linnets have been returning to the farm in huge flocks.'
Sarah is working on a Nature Networks Fund project, monitoring results with a team of ecologists. Cotswold Seeds has also produced a special wildflower mixture and The Bug Farm has given a packet of it to every resident in St Davids - the smallest city in the UK - to grow mini meadows in their garden.
Sarah is now doing a trial with Cotswold Seeds clover mixtures. 'We are planting a woodland across the farm and are keen to reduce the use of herbicides in tree establishment. By sowing clover rich mixtures to out-compete the grass, hopefully we won't need to spray around the trees for the first couple of years.
'It's really exciting,' says Sarah. 'We're farming for wildlife in a sustainable way for the long term. We need to reverse the mass extinction we're facing and change our food systems - and show how it all works financially and ecologically.'
The Bug Farm includes a museum, art gallery and tropical bug zoo. There are farm trails and wildlife walks plus the UK's first restaurant with insect-based dishes on the menu full-time.
---
Date Posted: 27th April 2023

Knowledge