Case Study: Specialist Hay Ley with Huw Jones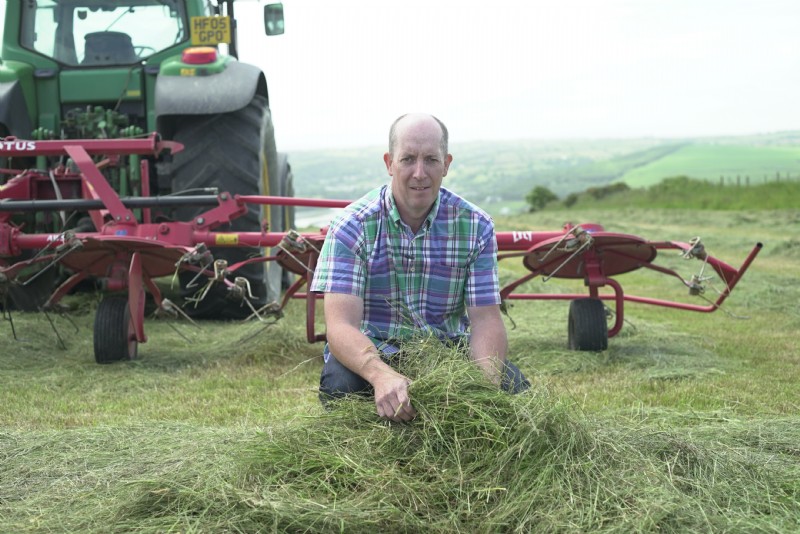 A coastal farm that suffers from damp atmospheric conditions is not ideal for making hay, but Huw Jones, a fourth generation farmer in Cardigan, West Wales, has developed a successful pet bedding brand.
His 250 acre farm is mixed, with half the land given to suckler cows and half to various arable crops. It's difficult land to farm as its location close to the sea means there's a lot of moisture in the air, but thirty acres are given over to a specialist hay ley sold as meadow or timothy hay, under the Huwbryn brand.
Cotswold Seeds supply a bespoke non ryegrass mix of timothy and other traditional, meadowgrass species, which makes it sweeter smelling and softer than regular hay, so it's more suitable for small animals. Timothy also gives an element of high digestibility and is good for gut health, with a high fibre content.
The field has been down for four years, with minimal inputs. Sheep and cattle are grazed here over winter. Being in a wet location making hay here is a fine art, it needs to be cut early before it has chance to go stemmy and become difficult to dry out.
Huw has been using Cotswold Seeds for fifteen years. 'Before that I couldn't find anyone to supply me with what I needed, but Cotswold Seeds immediately understood the problems I was facing and what I wanted to achieve from a grass ley.'
Huw is also interested in following the developments at Honeydale Farm, particularly the system of direct drilling, with no ploughing or harrowing. 'This is running parallel to what we are doing,' he says.
He's always been interested in different ways of establishing crops. Ploughing is problematic for him because at 400 feet above sea level, part of the farm is blow away sand. 'We struggled for years with ploughing in spring giving a lovely crop of spring barley which then dried up in April and blew away like snowdrifts into the hedges,' he says. So when he came across direct drilling he bought a drill and for the past six harvests he too has been using this method. 'Having a no till system which keeps organic matter near the surface is definitely the way to go.'
---
Date Posted: 28th March 2018

Knowledge