Cotswold Seeds: The First Chapter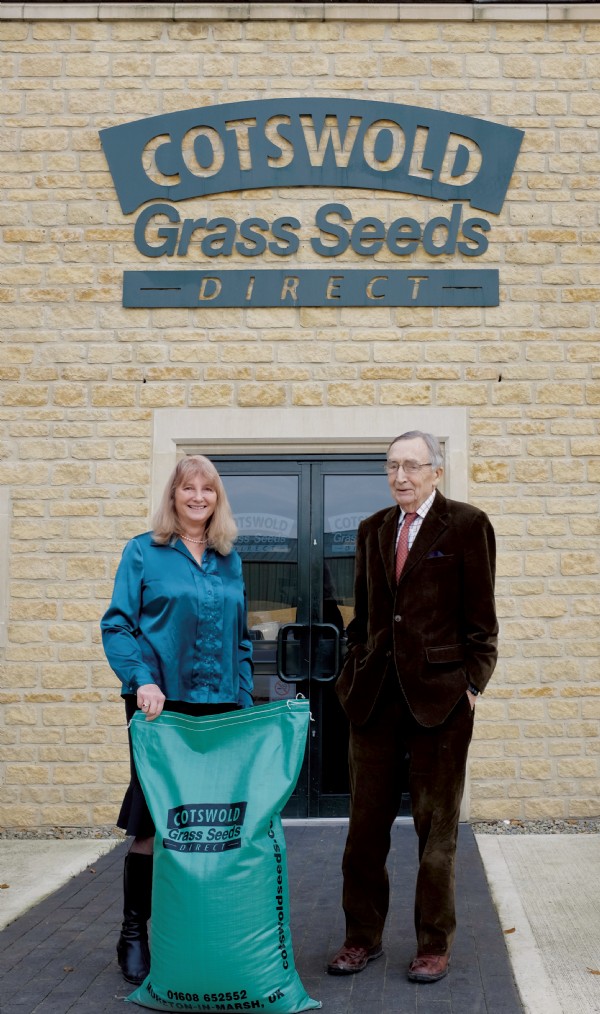 From the Winter 2017 issue of 'Broadcast'
Robin Hill founded Cotswold Seeds in 1974, while book-keeper Elaine Hall joined in 1982 and is still overseeing the accounts.
After obtaining an agricultural degree from Cambridge, Robin chose to learn the practicalities 'from the bottom up,' and became an under cowman on a dairy farm, progressing to the role of farm manager. He then decided to go into business and joined a local merchant as a buyer of malting barley. He remained there for just two years before striking out on his own.
He was soon joined by Elaine Hall, who had previously worked at a bank and was looking for a part time job after her youngest child started school. Though Elaine was employed as a book-keeper she did a bit of everything, from sales to keeping the customer file card index up to date - and shovelling seed mixtures. At this point the business was being run from a little office in Robin's garden, and the warehouse was eleven miles away. The orders were collected during the week and processed over the weekend.
The accountants questioned Robin's determination to have a warehouse but he was adamant that Cotswold Seeds would do things differently. 'Other companies were agents but we were selling direct to farmers,' Robin says. What also set Cotswold Seeds apart in the early days was Robin's insistence on doing away with salesmen, having observed how large sales teams resulted in high costs which could cripple a business.
For Elaine the early days at Cotswold Seeds were defined by ancient typewriters. 'We had an IBM,' she remembers. 'It was very, very heavy.' The complex seed mixtures in which Cotswold Seeds was increasingly specialising were made even more complex by the fact that every one of the many ingredients had to be typed out for each invoice. The now iconic Cotswold Seeds catalogue was also starting to take shape,
and Robin placed such an emphasis on its quality even in the early days, that he hired an electric typewriter, with built-in memory, for the annual task of catalogue compilation.
After five years the trusty aluminium shovel was replaced by a bespoke mixer. Filling the 50kg hessian sacks was still a dusty business, and this was one of the tasks that fell to the current MD, Ian Wilkinson, when he came to Cotswold Seeds as a student, asking Robin for summer job.
It was all well worth the effort, because nobody else was mixing their own seed, whereas 'we knew exactly what was going in,' Robin says.
When Ian joined Cotswold Seeds full time he persuaded Robin to drop the less profitable cereal seed sales to concentrate on grass seeds. Then came the next revolutionary change. The company started using carriers and the delivery process became much more efficient thanks to computerisation. This meant that the company was no longer restricted to local customers and with the introduction of a massively popular next day delivery service, was soon turning over £100k.
Robin sums up his business philosophy in one word: 'integrity.' He stresses how important it is to be reliable, and to believe in what you are doing.
Robin has always believed in the use of legumes, but he became even more convinced after being taken to Brittany to meet André Pochon, who had persuaded 2000 farmers to give up using nitrogen. 'He advocated low input farming and he totally changed my attitude,' says Robin. 'Would you put petrol in a car if it ran perfectly well on water?'
He's keen on slogans and still thinks, 'The Best in the Land' is the best way to describe Cotswold Seeds. Another might be, 'no salesmen and no nitrates.'
Elaine still comes in once a month to help with the books and, approaching ninety, Robin still has vision, and was very supportive of the decision to purchase Honeydale Farm. He has watched the company grow, the expansion into the new warehouse at Moreton-in-Marsh and developments at Honeydale with great delight.
'I have seen all my dreams come true,' he says.
---
Author: Fiona Mountain
Date Posted: 25th January 2017

Knowledge