Case Study: Root crops with Sean Ponsford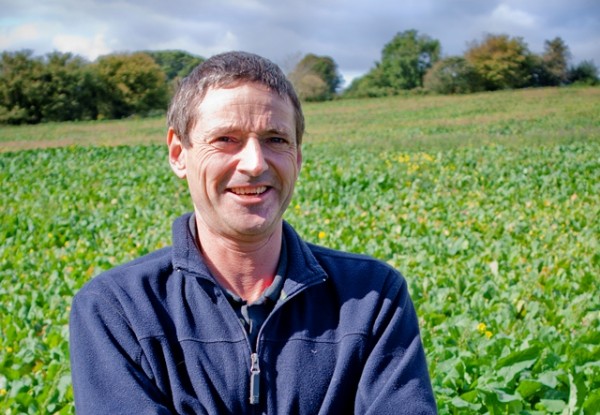 Name: Sean Ponsford
Farm Type: Mixed
Location: Monmouthshire
Size: 200 acres
Soil Type: Medium
Mixes Used: Early Fold Root Mix
This mix offers two real benefits that mean Sean has relied on it for the past few years: it is easy to establish and affordable. The combination of fodder rape and stubble turnips gets going very quickly once in the ground which means Sean can be confident he'll have winter forage on his marginal land.
The mix is broadcast using an electric spinner in mid July and used from November onwards, depending on requirements. With both sheep and cattle to feed, Sean was surprised how well these root crops coped with the heavy snow last winter. Store cattle were kept on the mix right through the bad weather and the crop's palatability seemed to hold up well.
The farm's flock of commercial mules was also overwintered on the Early Fold Mix with some lambs finished on the crop in the spring. This proved a cost-effective way to fatten lambs, with just a small quantity of additional concentrates fed to help them along. When using the root crop for either cattle or sheep, Sean ensures a grass run back is always provided to give the animals somewhere to lie. All stock are strip grazed on the root crops and, as the one strand electric fencing used for the cattle is easy to move, the stores are given a fresh bite every other day. As relocating the three strand fence for the sheep is more time consuming, they tend to be given a larger area. In general though Sean believes feeding little and often minimizes waste.
The crop also provides a valuable break in the farm's six year grass and arable rotation, and is usually grown between cereal crops so breaking the cycle of pests and disease that affect wheat and barley. Although caterpillars have been an issue in the past in growing these brassicas, the few that were spotted this year haven't stopped the crop from coming through strongly.
No extra farm yard manure is added to the crop, which yields well on the residual nutrients in the soil, another reason why this combination of rape and turnips has proved to be an economical, reliable and straight-forward solution to providing forage right through the winter.
---
Date Posted: 30th March 2017

Knowledge