Case Study: Permanent Horse Pasture with Emma Armstrong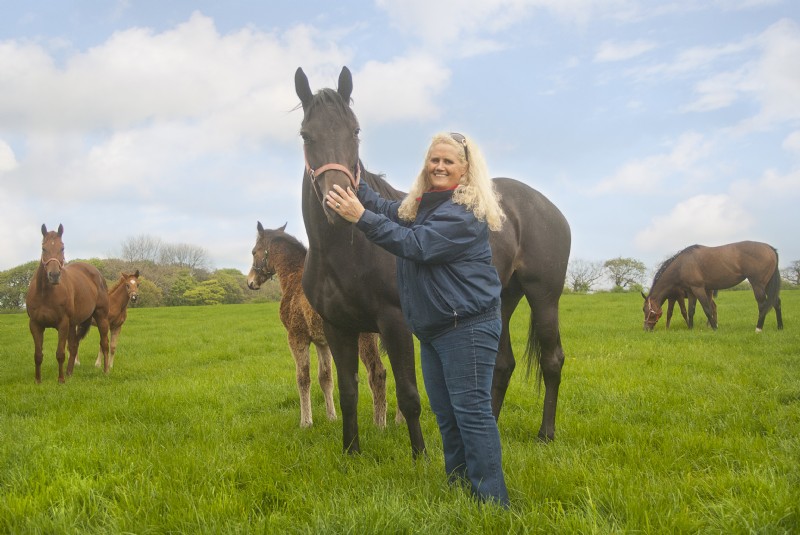 Whilst the Armstrongs can't put their success entirely down to the turf beneath the feet of great horses, Emma firmly believes that balanced grazing produces healthy animals. And animals that can win races.
Lancashire is not normally associated with the breeding of race horses for the flat, but the Armstrong family is breaking new ground. They have one of the largest recycling business in the North West, but it is their passion for fast horses that drives the family.
Describing themselves as 'small' breeders, David and Emma Armstrong concentrate on producing horses for sprint distances believing they can get them on the tracks more quickly than long distance runners. They have more than proved this theory having won The July Cup in 2012 with three year old 'Mayson' and then gone on to produce a trio of two year old winners from their own stables in 2013. Given that they only have 10 broodmares this is quite some achievement.
The 250 acre farm the Armstrongs breed their horses on was previously a dairy farm, with purely dairy pastures. Such ryegrass and clover swards which produced very lush, rich grass which is designed to maximise the milk yields was not suitable for producing the specific nutritional needs demanded of equine grazing and the Armstrongs weren't getting the results they desired.
The soil is challenging too, being very heavy, wet clay that's difficult to work and cultivate and is easily poached, so Emma Armstrong took advice about what to grow. She was advised to sow a combination of Permanent Horse Pasture together with a Bespoke Multi Species Mix, which was sown in 2007. The mixture of grasses, including ryegrass, meadow and creeping fescues, timothy, meadow grasses, foxtail and dogstail as well as herbs such as ribgrass, yarrow and burnet where selected to produce thick turf and nutrient rich grazing.
The quality of the pasture is maintained by over-seeding when necessary and avoiding overwintering the stock on the fields.
Emma's noticed a big difference since they've been using the mixes. 'The foals have been stronger and healthier,' she says.
Breeding seems to run in the Armstrong blood with youngest daughter Sophie now following in her parents' footsteps. In addition to taking responsibility for the daily equine routine she has also been involved in starting a herd of Limousin cattle which consists of 50 pedigrees and 100 cross breeds. The cattle and horses graze happily on the farm, sometimes together, other times separately, following each other from paddock to paddock.
Looking to the future, the Armstrongs are quietly confident that they can continue their winning streak. Given their track record you wouldn't bet against it either.
---
Date Posted: 29th March 2017

Knowledge