*Legume Legacy - Optimising multiple benefits of grass, legume and herb mixtures in crop rotations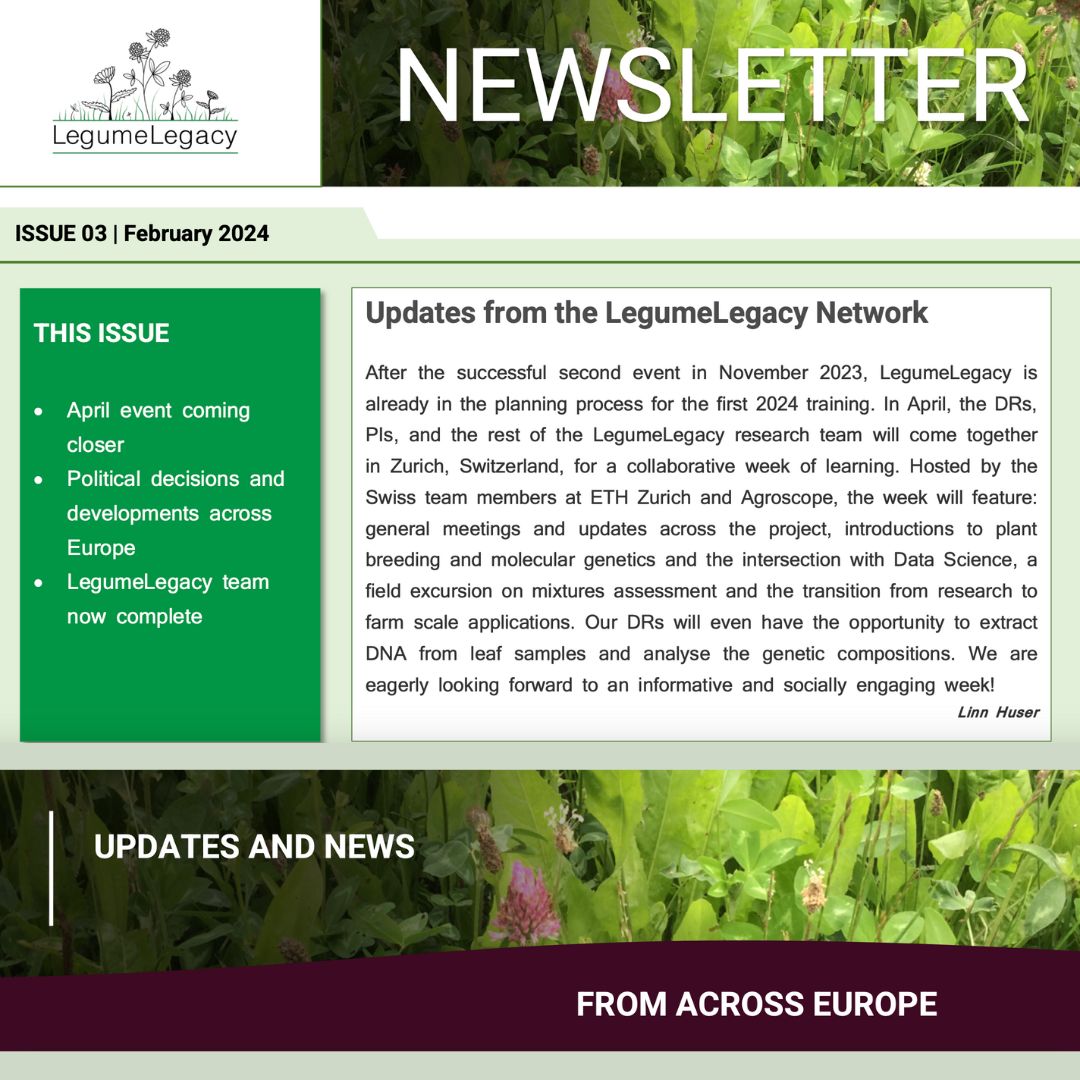 We are pleased to be involved in this project.
LegumeLegacy is a Marie Skłodowska-Curie Doctoral Network titled 'LegumeLegacy – Optimising multiple benefits of grass, legume and herb mixtures in crop rotations: modelling mechanisms and legacy effects'. This project brings together Principal Investigators and collaborators from 14 academic and industry partners from across Europe and one Canadian partner. LegumeLegacy will hire and train 11 Doctoral Researchers and will implement a research programme aimed at improving the sustainability of farm-scale crop rotations. The role of multi-species grassland mixtures within crop rotations will be investigated in the search for solutions to develop lower nitrogen farming systems that will promote sustainable farming practices. The Doctoral Researchers will be located across Europe at partner institutions. The coordinating partner is Trinity College Dublin (Ireland) and they partner with 14 other institutions to jointly deliver the LegumeLegacy research and training programme.
LegumeLegacy is a highly interdisciplinary collaboration bringing together experts in ecology, agronomy, plant breeding, animal nutrition and statistics. The LegumeLegacy Doctoral Researchers will carry out their own individual research projects and collaborate on a multi-site experiment conducted across the network. The Doctoral Researchers will undertake a world-class training programme developed and implemented by the LegumeLegacy collaborating experts and will meet twice per year to participate in joint training events. Each Doctoral Researcher will be expected to undertake two mobility secondments during their PhD facilitating them to develop a deep collaborative network during their PhD.
LegumeLegacy aims to lead the way in transforming productive agricultural crop rotation systems and the 11 Doctoral Researchers will be trained to emerge as the next generation of leading researchers in this field.
Explore the first Newsletter here:
https://legumelegacy.scss.tcd.ie/news/Newsletters/Newsletter_Sep-Oct_2023.pdf
Visit Legume Legacy's Website:
https://legumelegacy.scss.tcd.ie/index.php
---
Date Posted: 1st November 2023

Knowledge