Case Study: Herbal Grazing Ley with Russell Keepence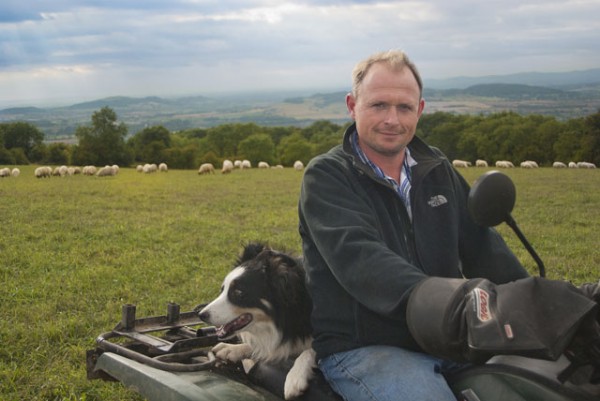 When you farm at 1000ft. on dry Cotswold Brash the great view doesn't always compensate for the lack of grass. Russell Keepence knows this only too well, with an historic lack of grass. In an attempt to increase dry land grass production in the spring of 2012 Russell sowed 56 acres of Herbal Ley coincided well with a couple of hundred acres coming out of ESA arable reversion.
Although there has only been one crop of lambs since the Herbal Leys were sown early results have been very encouraging. According to Russell, a 7 fold increase in early sales has been previous years where only 30 or 40 had been sold.
Russell was pleased with the overall results, he produced a lot of grass from dry land and achieved high growth rates. However there were some downsides too. To get the most productivity Russell was advised to let the grass grow taller and more mature than usual, he thinks that this may have been the cause of an outbreak of New Forest eye. This was cured with antibiotics but he believes it affected a number of animals. Whilst he doesn't think it would be problem with cattle it was a negative outcome in his case.
With 1100 lambing ewes, including Cheviots for the poorest land, Russell has a lot of stock movements around the farm. The Herbal Ley was sown near the home farm buildings, providing easy acess to fencing and water for rotational grazing. For fields further away the dual purpose cutting or grazing Cholderton Ley was sown with less of a need for careful rotational grazing.
The Herbal Leys were topped occasionally during the summer when annual weeds became a problem. This was especially worrying because when these leys were originally sown there appeared to be overwhelming amounts of spring germinating charlock. However after topping, fast regrowth of the ley meant this weed did not persist as an issue. Russell thinks that topping and grazing are a combination of the best and cheapest herbicide.
The tremendous growth that these Herbal Leys provided on thin Cotswold soils will mean that they will probably be sown again on Russell's farm but due to the need for rotational grazing and occasional topping, suitable fields will be carefully selected to make management easier. The excellent live weight gain and extra early lamb sales that they produced last year will certainly help that decision.
---
Date Posted: 29th March 2017

Knowledge