Grow Your Own Year Round Grazing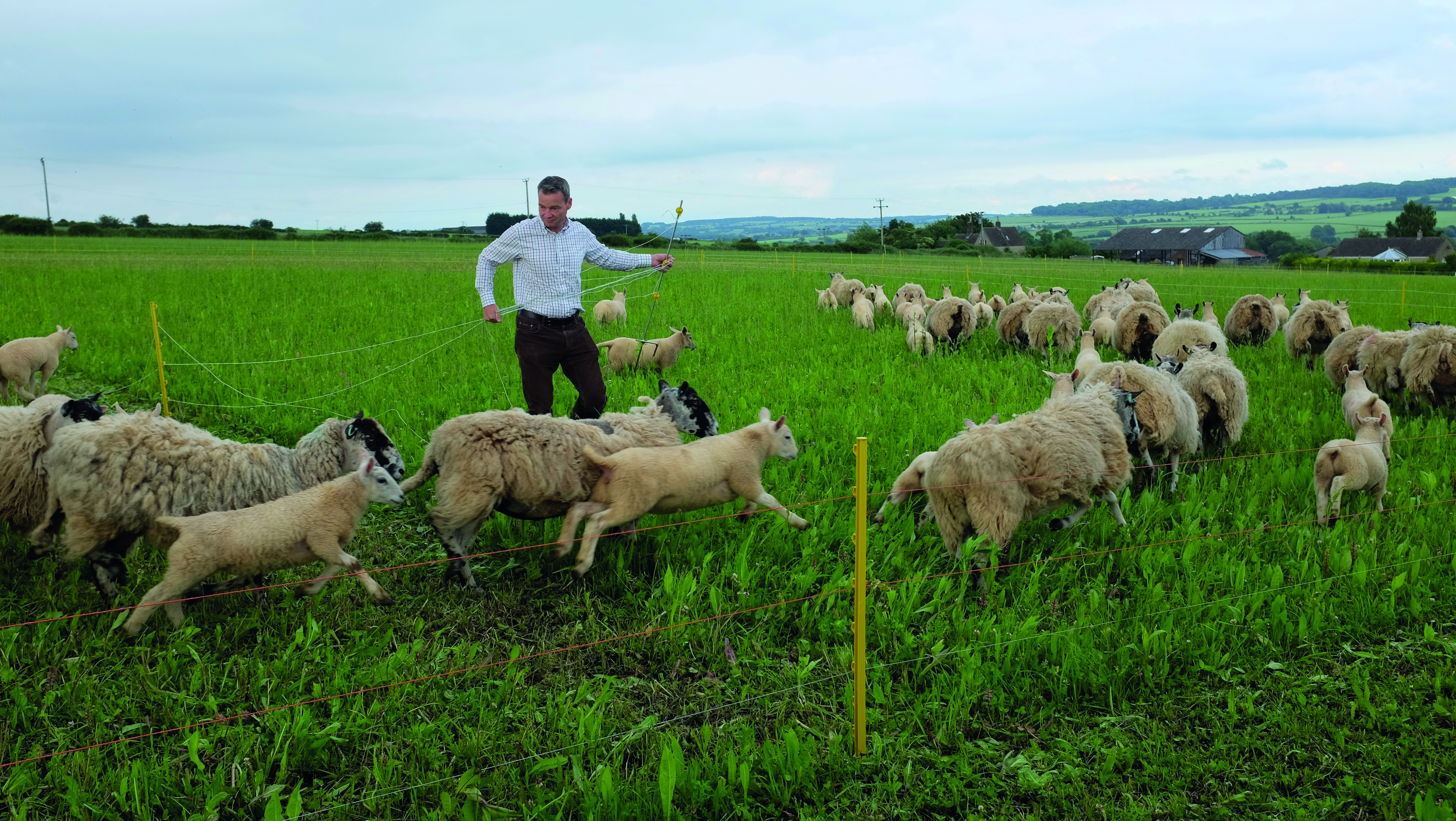 Before we took over our 107 acre experimental farm and education centre five years ago, in 2013, two thirds of land was given over to continuous crops, including spring barley, with limited amount of grassland. This was not financially viable and the soil quality was poor, with low levels of organic matter and fertility, and only a small amount of topsoil over limestone. It was also drought prone, so we needed to make dramatic changes.
We've kept a control area of the barley, which we are farming conventionally alongside our new crop rotation. The ley farming system underpins livestock production and we've struck up a convenient arrangement with a young farmer, Ed Adams, who farms the neighbouring land and was keen to increase his flock of sheep.
We are now able to grow forage for most of the year.
February
As winter gives way to spring, Ed's sheep move onto the farm looking for their first grazing on our very short term strategically grown crops. The earliest growth comes from yellow trefoil and white clover sown the previous year underneath an existing crop of wheat. There's not much of it and the sheep only stay on this for a week or two, but it's enough to get them going.
March
The yellow trefoil and white clover is ploughed up when the sheep are moved to mob-graze the rapidly growing westerwold ryegrass, sown the previous year.
April
By now the deep rooting, soil improving 4 year herbal leys are ready to be mob-grazed. We operate a system of portable fencing which is a little labour intensive at the beginning but when it's up and running takes only a few minutes a day, with ewe lambs soon trained to two strands. Water is important for mob grazing and we move the water around with the sheep, running it off the mains or off the back of a trailer. We try to graze with 50 day intervals, giving plenty of time for regrowth.
June
This is a time of maximum photosynthesis and long days, so there's lots of mature growth and height on the grasses and as June progresses, the sheep have a job to keep up with the vigorous growth and begin to get lost in the crop when they move to new areas! They aren't allowed to graze too tight, and we leave fifty percent of the grass, herbs and legumes on the surface to protect the soil and keep it cool. It worked really well during the drought last year.
When things do eventually run short and to avoid over-grazing the herbal leys, we exploit the permanent grass, which is also growing very strongly at this time. Included in this area is our newly planted 15 acre heritage fruit orchard, and we mob graze here too, which is a great way to manage it.
September
The sheep are now quickly moved across the new herbal ley sown in May, which offers some growth at the end of the year when the older herbal leys are running out of steam.
October
The sheep move to the sainfoin, which provides useful end of season grazing after giving us a very large hay crop. Fifteen acres of this crop are available and the sheep are put on the secondary growth and do very well on it.
November
As we move towards winter, the grazing season is extended by putting the sheep onto a root crop of stubble turnips and rape. And finally, after tidying up the permanent grass and experimental areas, the sheep are taken higher up the dry Cotswold hills, ready to come back to us in a couple of months or so.
---
Date Posted: 21st February 2019

Knowledge