Live from the ORFC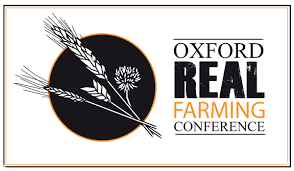 The Oxford Real Farming Conference is always guaranteed to get the new year off to a great start, so it's no wonder that tickets sold out weeks ago and there's a very long waiting list. But if you aren't able to attend for whatever reason, you needn't miss out. We will be live tweeting highlights from the talks and discussions as we did last year, when we're not on our stand talking to farmers and answering questions of course.
There are so many interesting sessions and discussion panels on the programme this year, from sustainable soil management and soil health, through to drought resilience, integrating leys into cropping systems and the benefits of increasing crop diversity.
So much of what is talked about and debated at the ORFC reflects our work at Cotswold Seeds and our centre for farming diversity, currently being developed at Honeydale Farm, so we're delighted to be sponsoring the conference in its tenth year, when it looks set to be bigger and better than ever.
See you there, or join in the conversations online. And if you have a burning question you'd like us to put to the speakers, you can tweet them to us @CotswoldSeeds. We obviously can't promise we'll have the opportunity to ask on your behalf, but we'll do our best.
Follow the #ORFC19
---
Date Posted: 2nd January 2019

Knowledge