Herbs for Farmers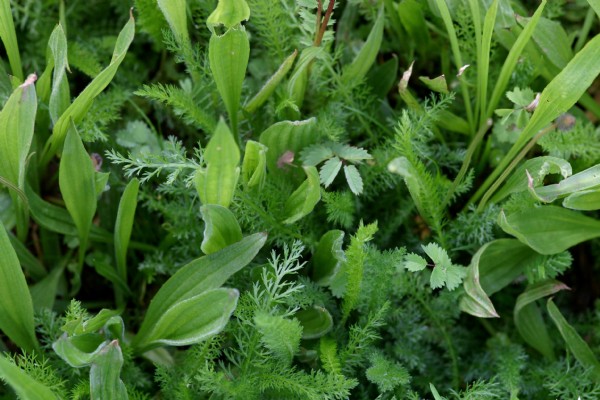 Deep-rooting herbal leys are becoming popular on many farms as they offer huge benefits to livestock and soil structure. Using deep-penetrating roots instead of diesel-consuming tractors, herbal leys are an alternative way to aerate soil.
Agricultural herbs also provide minerals, essential for normal, healthy animal growth. Single species grass swards are often found to be lacking in these micro-nutrients. Deep-rooting herbs are a rich source of these and are currently being researched by agricultural scientists. Many expert farmers consider that adding these valuable plants to seed mixtures is a logical step.
Chicory (Chicorium intybus)
A true 'groundbreaking' plant with deep roots that can penetrate plough pans and grow well on the driest soil. This high-yielding perennial is a rich source of minerals and has anthelmintic effects. It is therefore excellent for sheep or cattle threatened by intestinal parasites.
Ribgrass (Plantago lanceolata)
This reliable perennial herb, also known as ribwort plantain, is relatively low yielding but has deep roots and is grown for its vitamin and mineral content (especially copper, calcium and selenium).
Yarrow (Achillea millefolium)
Yarrow is a deep-rooting perennial and a rich source of vitamin A.
Burnet (Sanguisorba minor)
On light, alkaline soils this is a long lived perennial forage. All parts of the plant are palatable and it is extremely drought resistant.
Sheeps Parsley (Petroselinium crispum)
A short lived but useful herb which suits lighter soil types.
---
Date Posted: 29th January 2018

Knowledge