Hand Pick & Mix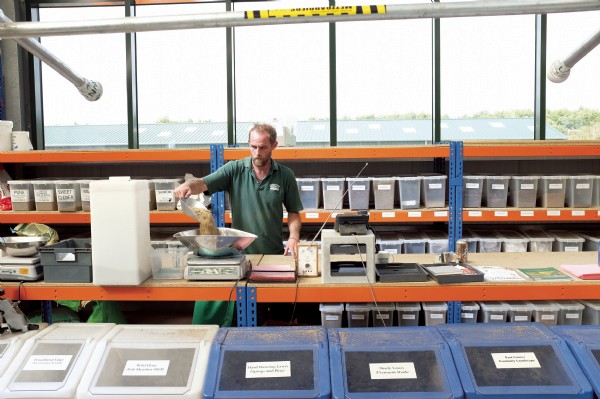 At Cotswold Seeds we take great pride in offering a next day delivery service, to make sure you have your seeds ready to plant as soon as conditions are right. This would be impossible without the help and expertise of Production Manager Mike and Senior Delivery Driver Mark and the rest of the team in the warehouse and behind the wheel.
When you've placed an order with us and the paperwork has been completed up in the office, it's the team in the warehouse and our drivers who are in charge of making sure everything gets mixed properly and goes out on time.
When an order sheet comes down to the warehouse it's handed to Mike and his team, who then put it all together.
'What people don't realise is that each and every order is hand-picked and mixed,' says Mike. 'We pick all the seeds in the mix from stock, ticking off each on the order sheet as we go, and weighing out the correct amounts before taking it all over to the mixer.'
Depending on the complexity of the mixture and how many different species are included, this can take anything from a couple of minutes to twenty minutes for each order. Considering that Mike and his relatively small team can be given up to 350 orders a day to process, it's a mammoth task that involves long days, sometimes stretching from 5am to 10pm, together with a slick system to make sure nothing goes wrong.
The cut-off for next day delivery is 2pm and all the seed bags need to be ready for the couriers and our own van drivers by 4pm at the latest. This involves palleting some for Palletline, caging others for couriers and preparing other pallets for our own drivers. The logistics of which orders are transported on which van all has to be worked out as well.
If you are located closer to our HQ at Moreton-in-Marsh we try to deliver seed orders with our own transport and friendly helpful drivers, so you're likely to find Mark or one of his team behind the wheel of one of our Mercedes sprinter vans. In recent years we've increased the number of our vehicles on the road to cover Wiltshire, Gloucestershire, Oxfordshire, Warwickshire and Worcestershire, parts of Herefordshire, Northamptonshire, Buckinghamshire and Berkshire. We try to deliver to everybody within 30 mile radius and if we can accommodate them, we will stretch to a 60 mile radius. We know this region so well, having operated from the heart of it for forty years, and the vans are an extension of our friendly and personal service, handling every stage of many orders, on their journey from our warehouse floor to your door.
The complex systems and logistics required to make sure all goes to plan is why Mike says that making sure the orders go out on time is both the most challenging and the most satisfying part of his job.
---
Date Posted: 3rd February 2015

Knowledge