Case Study: Ralph Messenger - paddock grazing system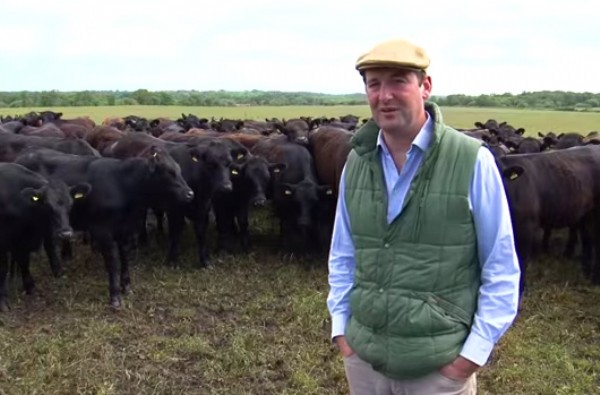 Flexibility goes hand-in-hand with farming, as Ralph Messenger proved when his plan to switch to a paddock grazing system was hampered by the wet weather.
Ralph farms 670 acres in Dorset, a family farm established by Ralph's father in 1978. Their beef herd of Aberdeen Angus now runs to 150 suckler cows with 4 bulls. The land comprises 70 acres of woodland, 200 acres of HLS reverted heathland, 300 of grade 3-4 heathland, and 200 grade 3 sandy loam. Agriculturally poor, the loam is not good for retaining water so Ralph had been restricted to growing deep rooted grass for grazing. But when looking for an extensive beef fattening system, Ralph decided to try the New Zealand paddock system with herbal leys, which is proven to be 80% more efficient.
In 2013 Ralph planted the Cotswold Seed Herbal Ley over 70 acres, with another 50 acres sown this year. His aim was to operate a 35 day rotation of an acre a day, fattening the cattle over two years on the deep rooting herbal which would draw up vitamins and minerals and provide the cattle with a balanced diet, as well as breaking up the pan and providing a better soil structure.
The cattle were to be overwintered on the grass leys due for a reseed the following spring, based on the theory that poaching tends to kill off leatherjackets and wireworms which would otherwise be a problem on an organic farm.
In order to properly establish herbal leys, Ralph aimed to have an index of 2 for potash and phosphate and get the soil to pH6.5. Since the land is traditionally acidic, lime was applied after ploughing and 'Silvernite' was used to address potash issues which are a problem on sandy soils.
The ley was put in by ploughing the old ley, then drilling and cultivating with spring oats and peas which were rolled the same day before the herbal ley was spun on with fertilizer before rolling again. The peas and oats were harvested 12 weeks later, with light grazing in the Autumn and the introduction of the cattle in May.
The trouble was, it was still raining in May, day in and day out, and after a week of daily moves on the acre pastures, the cattle were churning up the ground and any efficiency gained by the new strip system was being lost.
The solution was to give the cattle a bigger area and to move them every 4-5 days rather than daily.
'We couldn't operate the system quite as planned,' Ralph concludes. 'But in hindsight it would have been best not to even try unless we'd had a very dry spring. We might also have been better with a heavier ley. But even so the herbal ley, peas and oats established well, the weight gain in the cattle had been very good and herbal ley regrowth is very good too, so even the extreme weather didn't scupper us!'
Ralph has sown another 45 acres last year so there's even more land to rotate come this year.
---
Date Posted: 29th March 2017

Knowledge