First Hand Case Study: Herbal Leys with Angus Gowthorpe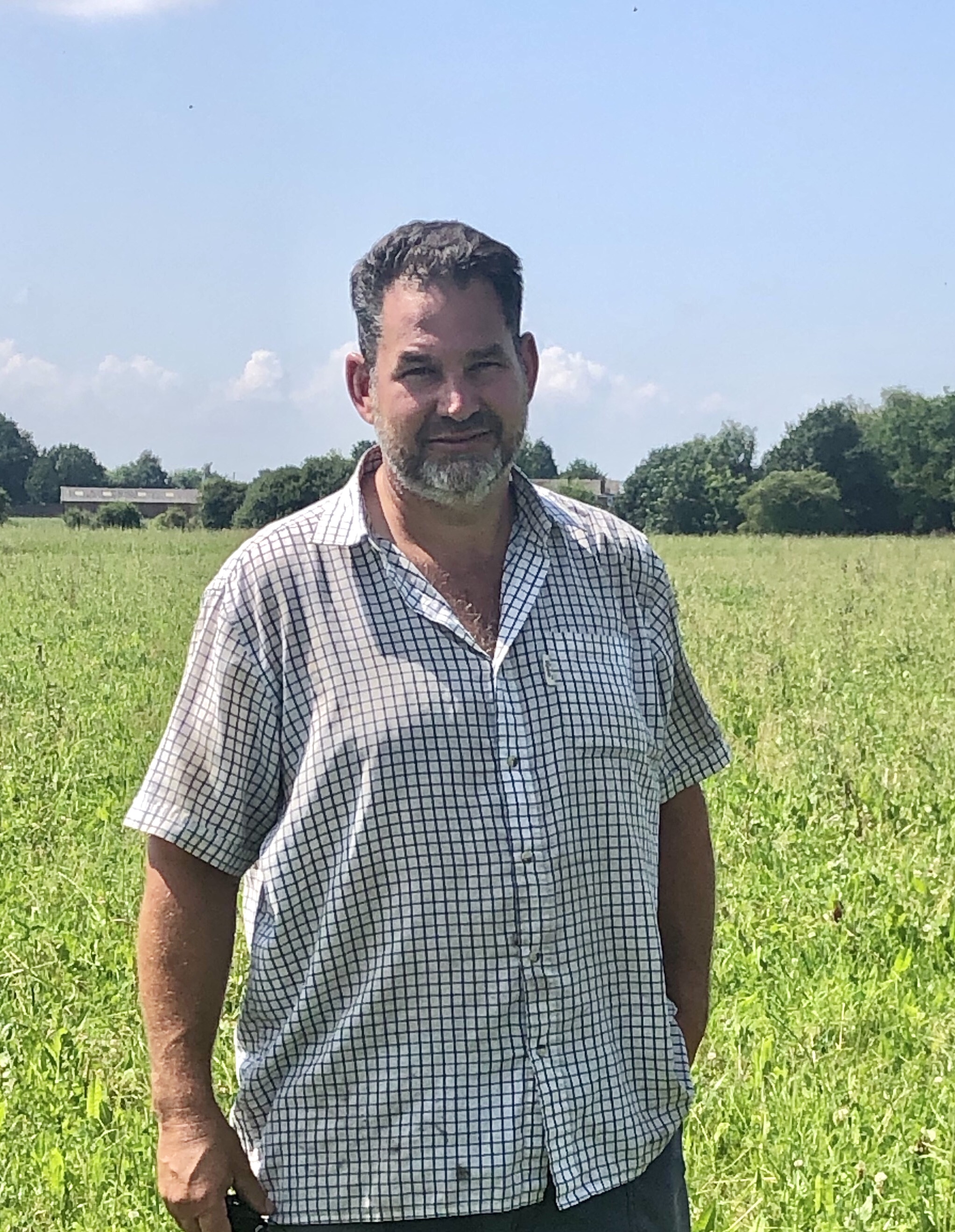 Location: Vale of York
Farm Type: Arable with Livestock
Size: 430 acres
Soil Type: Sand, loam, some clay
Mixtures: Simple Herbal Ley
Angus Gowthorpe says he is, 'a great believer in soil health and combating climate change.' Keen to farm regeneratively, he began introducing herbal leys, grazed by livestock, into his arable rotation in 2018.The results have been spectacular.
Angus's farm comprises 400 acres in total, with 300 acres of arable and 100 acres of temporary and permanent grassland. He also rents 30 acres of ex Coal Board land, which he describes as being made up of 2 inches of topsoil on top of concrete, stone and rock.' The soil across his farm is 'blow away sand and loam'.
His diverse rotation includes winter cereals, spring beans, linseed, spring oats. Previously, his temporary grass was based on red clover and ryegrass for silage and white clover and ryegrass for grazing but he wanted to improve soil health and increase sward diversity.
He began by sowing a Simple Herbal Ley for silage in 2018. 'It was absolutely fantastic, and so reliable, despite drought conditions,' he says. 'We were getting three full cuts with five to six bales an acre every cut. In comparison to the ryegrass and red clover it was amazing. In 2018 during the drought we were getting just a bale an acre of that mix because the ryegrass was totally dead.'
In 2020 he direct drilled the Simple Herbal Ley in the middle of August, after winter wheat, using no inputs and began mob-grazing with a herd of forty-five pedigree Saler cows with calves at foot.
The herbal leys as temporary grassland in the arable rotation provide high impact, high intensity grazing. Cows are turned out in mid April and the whole herd is run as one mob until the bulls are taken out in late June when the mob is split into two. The mobs are give 24 hours in each cell before being moved on to the next.
'Introducing herbal leys into our rotation, grazed with livestock, has been fantastic for soil health and building carbon, particularly at depth,' says Angus. ' The deep roots of chicory are fantastic for producing organic matter, giving the land a break from synthetic products and getting muck back onto the field. We have seen consistent uplifts in yields year in and year out.'
Angus is now getting thee and a half to four and half tons of winter wheat per acre, two tons of rape, two tons of spring beans and three and a half tons of winter barley. The cows also do well on the ley. 'They love the herbal ley and can't get enough, especially the chicory.
Angus is so pleased with the results that he is replacing his red clover ryegrass leys, extending the herbal leys onto more fields, including four hectares of GS4 multi- species stewardship.
Angus came to Cotswold Seeds because, 'they are the company that understands herbal leys and the attributes of all the different species and how they fit on different soil types. They've been doing it for longer than anyone else and their skill, experience and knowledge is second to none.'
He also takes advantage of bespoke mixing. 'With excellent advice from Sam, we tweaked the standard mix and reduced chicory for baling. Sam's also put together a herb and legume blend for us to improve the permanent grassland. We sprinkle it on top and the grazing cows paddle the seeds down into the soil surface. That field is still getting a bit of nitrogen but we want to cut that out as we progress.'
---
Date Posted: 2nd March 2022

Knowledge