Case Study: Sainfoin with Vernon Bailey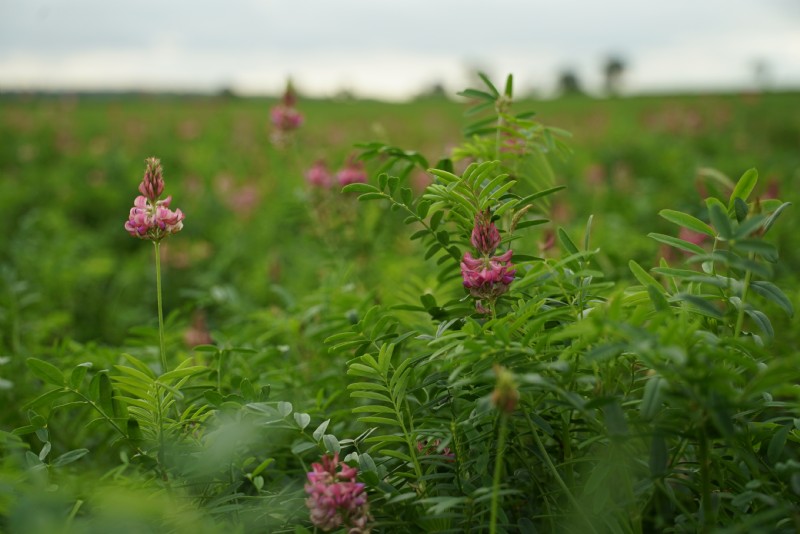 Vernon Bailey has farmed his land in Oxfordshire for fifty years but recently learned from a farmer who was working it back in the 1920s that one of the fields was historically known by the name of 'Sainfoin' and had sheep folded on it. Vernon had been using this field for grass leys and arable crops, with three years of leys followed by wheat and barley, but when he had to take greening measures in Spring 2016, he thought he would be take a hint from the field's traditional name and reintroduce sainfoin.
He sought advice from specialists, Cotswold Seeds, and the field was ploughed in late autumn and then drilled by April, by a contractor with a rotor-drill combination.
'I told the contractor I had an interesting project for him and showed him seeds that look like little spaceships,' Vernon remembers. 'He weighed and calibrated it and it went in nicely, was rolled the next day and we had some good rain after a week. The crop came up beautifully and to my amazement, within a few months it had blossomed. We were told by Cotswold Seeds to let it go to flower before grazing and it was like being on safari it was so lush. When we shut the lambs on the sainfoin, twenty of them would pop up out of nowhere.'
Vernon had been using a wormer which clearly wasn't working. The lambs had runny bottoms and weren't getting fat. It took them a while for them to take to the sainfoin, but when they got a taste for it they loved it. Within three weeks I'd got thick meat ready for market and their bottoms had dried up,' Vernon remembers. 'I was delighted, and thought that for once in my life I'd killed two birds with one stone.'
He continued to graze the crop, then topped it when all that was left were the stems. He left about 3-4 inches of growth for winter, and didn't touch it again till the spring, when he says it grew away rapidly.
'At one point, I wondered if there was going to be much there, but then all of a sudden it seemed to rise like a phoenix.'
By the end of May/beginning of June it was silaged, achieving ten bales to the acre. He used no nitrogen fertiliser, since sainfoin fixes its own. 'And after a good drop of rain, it came sprouting up yet again, to my amazement.'
By the end of June, Vernon once more ran the lambs over it. 'We had a hundred fat lambs off the 28 acres of sainfoin and I was well pleased,' says Vernon. 'It's been a steep learning curve but it's worked brilliantly.'
He's so pleased in fact, that he intends to give another twenty acres to this crop.
---
Date Posted: 28th March 2018

Knowledge